Coming in October: Growing a Peaceful Heart
Monday, September 26, 2022 by Karen Whiting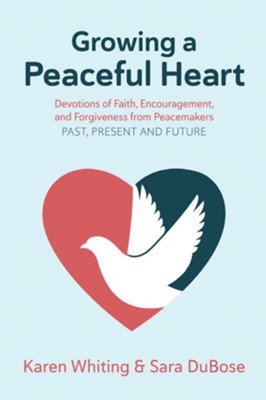 Are you ever sleeepless from stress or anxiety, getting angry or crying easily? Are there relationships you wish you could improve? Or do you have times you just can't seem to have inner peace? Then choose to change.
If you want to be a peacemaker to calm people down, lessen squabbles, or impact your community, discover how peacemakers in history and in the Bible brought peace.
30 weeks of prayer and devotional stories show how we can have peace in spite of circumstances. It's a process. Karen shares in these devotions how she had peace while raising five children in military life through major hurricanes that caused serious damage, four lightning strikes, 2 spontaeous combustible fires, an earthquake, hail storm, and other natural disasters as well as the loss of her husband to breast cancer. Co-author Sara DuBose also had her share of disasters and hard times. Peace can reign in your heart and life!
Preorder the book wherever books are sold (especially at your local book store). Realease date is October 20th.
It's the the next book in the Growing Herat Series.
---