Growing a Mother's Heart Released
Friday, April 2, 2021 by Karen Whiting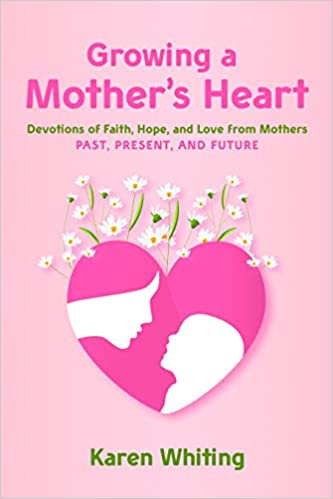 My newest book released this week Growing a Mother's Heart: Devotions of Faith, Hope, and Love for Mothers Past, Present, and Future. I so enjoyed writing and interviewing moms for their stories. As moms we have the joys of smiles and kisses as well as laughter shared and the excitement of watching little ones grow. The Ah-ha momments when a child grasps a new concept is a wonder to treasure. We also share struggles when things go wrong and unexpected problems arise. That's when other moms bring comfort and help us know we are not alone and not the only ones who struggle.
We are moms forever whether our child is on this side of heaven or not. They may grow up but we're still mom! WQe do the best we can and the best is to simply continue loving each child. A mother's unconditional love helps our children understand God's unconditional love.
These stories include moms throughout history, biblical moms, and contemporary moms. To add laughter quotes form little girls are sprinkled throughout the book.
God is with us every day and rejoices with us and comforts us when we need it.
---