Newest release 52 Weekly Devotions for Families Called to Serve
Friday, July 19, 2019 by Karen Whiting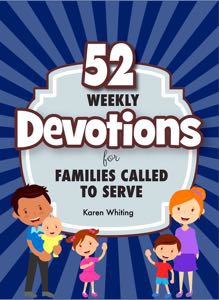 Newest Book!
God has called us all to serve the people around us, no matter what our careers or callings are. How can you help your children understanding God's call to serve and share his love in fun and meaningful ways?
Got the book? Then get extra tips on using it from the Family Faith and Food Blog
If your family serves as first responders, military, missionaries, or volunteers regularly, how would you like a book that helps you thrive with the unique problems of your lives? Share scriptures, real stories, and activities that help you connect and talk about your lives and those of others who serve. Apply tips to improve your family dynamics and help your children understand and celebrate your service person.
Would you like your family to really understand the lifestyles of people who serve— first responders such as firefighters, police, and EMTs; military, missionaries, and families who volunteer? Understand the call to serve, the sacrifices, living with a member in a dangerous career, and dedication that impacts the entire family, plus the rewards and joys of really helping people. That's what you'll discover in 52 Weekly Devotions for Families who Serve
Book contents
Weekly focus and family Beatitude
Weekly scripure
3-4 hands-on activities to do as a familuy
Contemporary story that involved the family who has someone who servesn (firefighter, law enforcement, military, volunteer, EMT, disaster relief, missionary)
Scriptures with chat prompts to inspire great conversatiojns
Scrapbook promt to journal or create a faith memory album
Frontline tips on dealing with a lifestyle issue
Prayer
Wrap up of final thoughts for the week
---