New Book in Process
Monday, March 5, 2018 by Karen Whiting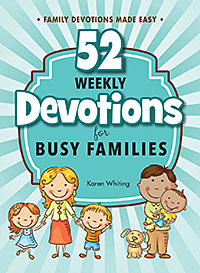 Wow! Another book to write. I started my next family devotional. This will have a little twist but otherwise look like the recent release 52 Weekly Devotions for Busy Families.
The stories and focus will look at families who impact lives. That means those who serve such as firefighters and military personnel, those who volunteer, and others who make a difference.
If you have a great family based story that might fit, feel free to share it with me.
I love doing family devotions They were the heart of raising my children. Family devotions provide many benefits. Here are some of the great value from family times with God's's word:

Builds strong family bonds
Increase reading comprehension nd other cognitive skills
Foster children's's conversational skills
Increase vocabulary
Inspires children to hold on to a biblical worldview
Build faith memories
My daughter Rebecca said that her earliest memories are doing family devotions and that is so precious. I pray that your family will do them and build great faith memories
Blessings,
Karen
---