Check out My art product store for kits and craft books to help children enjoy making and using crafts. Most are made with paper and recycled products or simple dollar store items. For full store of products go to https://karen-whiting.square.site/.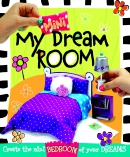 My Mini Dream Room
Make miniatures for a dollhouse bedroom
Make a bed, dresser, wardrobe closet and more, working skate board plus a teddy bear the right size for all the furniture.
$9.00
Buy From: Square
---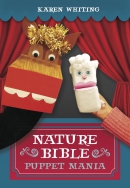 Nature Bible Puppet Mania
Learn ppuppet skills, make puppets, props, and mor
$10.00
Buy From: Square
---
Doll Necklace Kit
Make a wooden bead head necklace on a cord
A cord, bead, nylon netting, and wire plus permanent markers are used to make the necklace. It's fun to make and wear. For boy's there's a teddy bear necklace.
$2.50
Buy From: Square
---

Alligator Puppet
Everything but the adhesive to make puppet
Puppets can be made from so many materials and what you use creates unique characters. The alligator in green or bllue for a monster has a big mouth. It's easy to make. You need double sided carpet tape and craft glue to make it plus the kit. Plane a few hours to make it.
$5.00
Buy From: Square
---

Puppet Making DVD
Tips and ideas for DIY puppet making
Learn tips and ideas for DIY puppets. Tap into creativity to recycle and use dollar store items to make creative puppets.
$8.00
Buy From: Square
---

---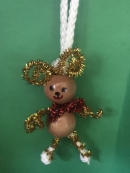 Teddy Bear Necklace Kit
DIY teddy bear on cord necklace from beads/chenill
Kit with two beads, a cord, and chenille stems makes a fun teddy bear to wear.
$2.50
Buy From: Square
---

Paper Puppet Theatre Kit
Cut and color puppets to use in full color stage
Kit provides a great intorduction to puppetry for children. Children cut and color paper finger puppets that can even stand up. They also cut and color scenery and props. Use the two scripts to perfom a simple show. Scripts are based on two Old Testament stories of Jacob's ladder and Ballamm and a talking donkey.
$2.00
Buy From: Square