Karen Whiting – I am a certified coach with AWSA in writing, speaking, and marketing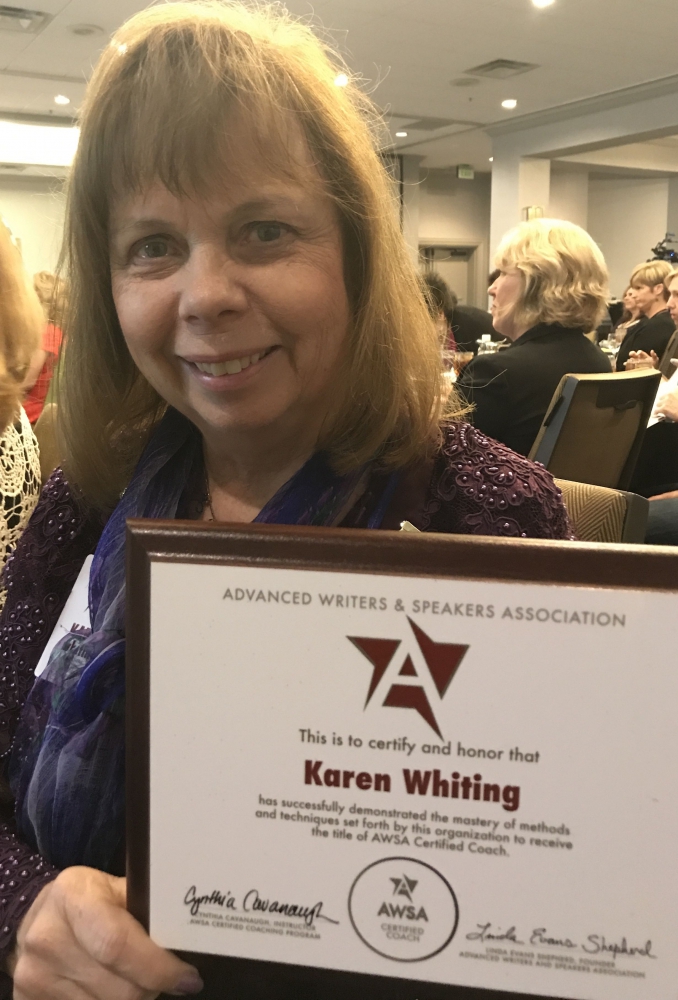 and would love to help you move forward in your writing journey
Value of a Writing Coach
A writing coach can help you move forward in your writing and work through obstacles such as time management, understanding the publishing industry, and overcoming blocks. I focus on helping you in any area of writing or marketing you need.
A coach listens to your needs and asks questions to help you look within for solutions that connect with your real desires.
Karen's experience
As an award winning author or twenty-six books with more than a dozen major publishers (Tyndale, Harper Collins, McGraw Hill, Hachette) and smaller ones, I know the industry well. Beyond books, Karen also have had several hundred articles published by more than sixty publications.
Karen writes a monthly post on The Write Conversation (rated in the top 100 writing blogs) on the third MOnday of the month and speaks on writing and marketing at numerous national writing conferences.
Karen has served on the board of directors of Christian Authors Network for sseveral years where she helps connect retailers, publishing industry experts and retailers with authors. She is also a panelist for the Writers View, a discussion forum for aspiring and established writers.
Let me help you:
Build on your strengths
Overcome obstacles
Prepare for writing conferences
Manage your writing time more efficiently
Discover your writing direction
Help you be accountable
Learn how to edit and strengthen your manuscript (shorten, lengthem bring clarity, relatable to audience, etc)
Develop a marketing plan that fits your style, talents, and abilities
Endorsements fromm clients
Karen is an incredible writing coach. She has connected with who I am and has tailored her approach for me specifically. Her follow-up skills are exceptional and her advice is spot on. ~ Laura McPherson, MS, LPC, LMFT
Karen has a breadth of knowledge. She helped make my nonfiction writing more personal and relatable with useful suggestions that were easily applied. She provided the most useful understanding of "show don't tell" I have ever received. I believe her services have made me a better, more aware writer. ~ Lauren Crews, MDIV, Bible Stuyd teacher, author
For more details, check out my
Qualifications
25+ years in the traditional book publishing industry and magazines gives her insider perspective on what brings success. She understands how each book has a story and a reason for why and how it came to be published and what it takes to get to that point.
Karen continues to grow and work in the industry. She takes courses and training each year to continue to improve her writing and marketing aad understand the latest trends and technologies.
Karen took college level training to become certified as a coach. She spent hours coaching others and being evaluated as a coach. As a coach, she brings out the best in clients and helps them discover the answers that fit them.
She also has a degree in mathematics that helps her be organized and good at time managment, as well as help clients learn to streamline their days.