Raising a Young Modern Day Princess (2016 fall release)
Monday, October 3, 2016 by Karen Whiting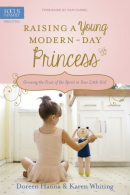 I co-authored this book with my friend Doreen Hanna. She has a great website with more product for girls! We had fun writing about our experiences of moms and sharing experiences of other moms.
Kindness, joy, peace, patience, self-control, as well as gentleness, love, faithfulness and goodness are all qualities parents want in their little girls.
Those are fruits produced by the Holy Spirit from seeds you plant and nurture. Discover through story, activities, and parenting tools how to cultivate the Fruit. Each chapter includes a special dad tool box and dad-daughter activities. Explore ways to reach your unique child through her personlity and enjoy fun together as you instill faith in her.
---