Christmas is Coming!!!
11/30/2017 8:48:00 AM by: Karen Whiting
Yes, it's that wonderful and yet stressful time of year when we celebrate and rejoice at the birth of Jesus. Make it an ADVENTure with an Advent wreath!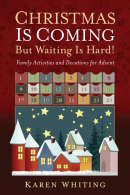 Here's a review of my book to use during advent
Lower the stress and trust everything will be ok if you don't do everything that you think makes a perfect Christmas. Here's a link to an article on page 33 focusing on What Matters Most at Christmas and one more review
Listen to Karen chat about this book and others on Moody radio
Stay joyful
Choose to be happy with gifts received-the person took time to think of you
Make some foods ahead and enjoy what you have—a change can become a new tradition
Smile and pray for others when waiting in lines
Read the Christmas story in Matthew 1 and Luke 2 and thank God he sent Jesus!!
If you can't get all the gifts you planned to buy make a promise coupon to gift the person later
Buy a few gift cards to have on hand in case you forgot someone
Keep supplies on hand for quick meals to use when days seem overwhelming
RECIPE
If you're in a hurry, here's a simple dip to serve with veggies or chips:
Mix two cans, drained, of shrimp (or chicken or crab...) with two eight-ounce packages of cream cheese, softened, and 8 ounces of sour cream. Add in Worcestershire sauce (1-3 tablespoons depending on desired taste). Bake 25-30 minutes at 350 degrees until edges brown and bubble.
---